PUBG Mobile is one of the Android battle royale games that are popular among Indonesian gamers. This game itself, previously achieved great success through the PC platform and Xbox tablets. Just like other competitive mobile games, PUBG Mobile also has a ranking system.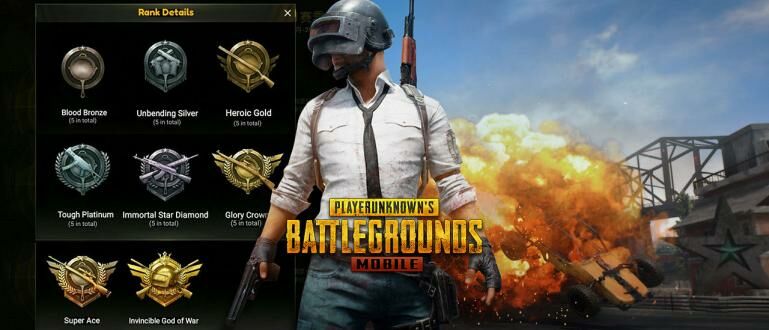 Types of Ranking in PUBG Mobile
PUBG Mobile, especially in Classic mode provides three game modes, Solo, Duo and Squad which have their own rank or rank. Calculations can also be seen on the Rank menu on the main page of PUBG Mobile game.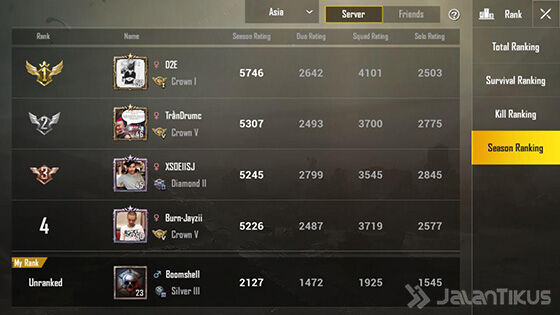 At least now PUBG Mobile has 4 ranks, namely Total Ranking, Survival Ranking, Kill Ranking and Season Ranking.
Total Ranking, set based on overall player performance during play, from Survival Rating, Kill Rating to Survival Time.
Survival Ranking, based on the number of wins that can be earned compared to defeat. Here the calculation points start with Win Ratio and Total Win.
Kill Rating, perfect for carry players who do a lot of cleansing missions in the game. It is calculated from Most Kills, K / D Ratio, and Total Kills.
Season Rating, calculated based on game performance in each season depending on the result of each mode in PUBG Mobile.
Complete Mobile Legends Rank List
The Match Tour is the most prestigious game in Mobile Legends because it determines the rank alias of the player. From Warrior to Mythic, here's the sequence of Mobile Legends rank more. Already refer to the calculation of rank of each section as I explain above. Of course in addition to Solo mode, Duo and Squad, there are still other calculations that make your rank better in the game PUBG Mobile.
1. Blood Bronze (Bronze)
Rank lowest and start in PUBG Mobile game. The Bronze rank icon still uses Pan, the best melee weapon in this one game.
Bronze PUBG Mobile rank order
Bronze V - Bronze IV - Bronze III - Bronze II - Bronze I
2. Unbending Silver (Silver)
Furthermore, players can step into the second rank, namely the Silver rank which is described using a gun. Oh yes, the gun itself can be said to be the beginning weapon in PUBG Mobile.
Silver rank order PUBG Mobile
Silver V - Silver IV - Silver III - Silver II - Silver I
3. Heroic Gold (Gold)
For middle-class players, you definitely have Gold rank in it. This rank is depicted with a shotgun, which becomes an effective weapon for close combat.
Gold rank order PUBG Mobile
Gold V - Gold IV - Gold III - Gold II - Gold I
4. Tough Platinum (Platinum)
Stepping a bit to rank on it, there is a Platinum rank that is usually filled by players who are already pro. Create a weapon that describes it, of course there are UMP I often use.
Platform rank of PUBG Mobile
Platinum V - Platinum IV - Platinum III - Platinum II - Platinum I
5. Immortal Star Diamond (Diamond)
If you have reached this rank, it seems that you are very good at playing PUBG Mobile. Well, it's worth it if AKM and M16A4 Diamond Rank icon.
The order of Diamond PUBG Mobile rank
Diamond V - Diamond IV - Diamond III - Diamond II - Diamond
6. Glory Crown (Crown)
It can be said that Crown rank ranked highest in the current PUBG Mobile game. No wonder it's the Kar98k icon, one of the sickest sniper weapons in this game.
Crown rank order PUBG Mobile
Crown V - Crown IV - Crown III - Crown II - Crown I
7. Super Ace & Invincible God of War (Legendary)
Super Ace & Invincible God of War (Legendary)