What game do you play the most? Is there a weapon that has always been your mainstay to defeat the enemy?
In an adventure game, there must be an exciting action of a hero when fighting an enemy. One of the most important things a hero has is weapons.
You can find a variety of iconic weapons in the game. I was so cool, some people also made a real version of the weapon.
As the following game weapons are made in reality. Come on, see more!
Game Weapons Made in the Real Version, Can Be Used for Real!
Iconic game figures aren't enough if they aren't equipped with small weapons. In fact, some RPG games utilize a weapon as the main story.
Even the design of weapons is not haphazard, Having a background in the form and history of its manufacture, making a weapon become very iconic.
In addition to making clothes for cosplay activities, some people also make weapons in famous games. Unmitigated, the material used was quality.
Call it the Man At Arms team who are always trying to make fictional weapons real.
One of them is even owned by a well-known ex-Youtuber, see below:
1. Elucidator and Dark Repulser, SAO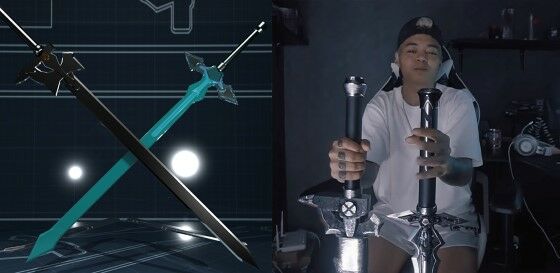 First, are the two swords from the action anime Sword Art Online aka SAO named Elucidator and Dark Repulser. This sword is owned by Reza Arap.
Reza made this sword with the help of a blacksmith in the area of ​​West Java. The manufacturing process is quite long, about 2 months.
Elucidator and Dark Repulser weigh about 5 kilograms per sword. Not just a decoration, both of these words are really sharp and can be used to cut.
You want to have one, gang?
2. Buster Sword, Final Fantasy VII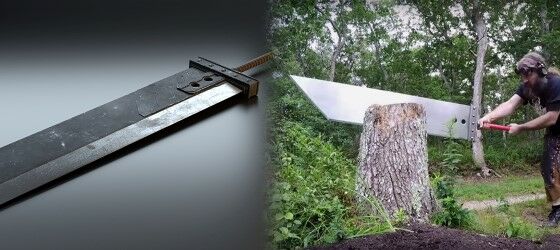 Are you a fan of Japanese RPG games?
Definitely not familiar with the Final Fantasy VII game, yes. One of the most iconic weapons in this game is a sword used by the main protagonist, named Buster Sword.
The size of this sword is very large and has a length of about 1.5 meters. A Youtuber from the Michael Cthulhu channel tried to make a real version of this sword.
The results are an amazing, gang. In fact, this sword can cut hard objects like wood, even though the details of the sword are not so perfect.
3. Psycho Buzz Ax, Borderlands 2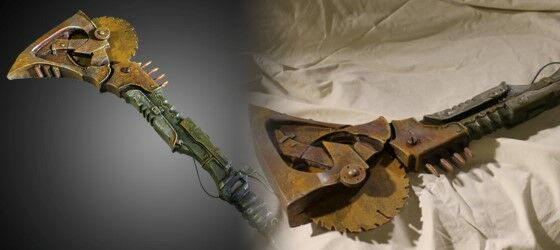 Next up is Psycho Buzz Ax which is a weapon from Borderlands 2. The shape is an ax equipped with gear.
Uniquely, you can make this weapon yourself at home. You can see how to make it from a YouTube channel called CraftStation. Interested in making, gang?
4. Gunblade, Final Fantasy VIII

What happens if a sword is combined with a gun?
This gunblade is the answer, gang. First introduced in Final Fantasy VIII, this sword has become a weapon with a small design.
This weapon is no longer a fiction because Man At Arms made a real version. Uniquely, this Gunblade has a design by combining a gun and a sword into one.
This weapon is increasingly cool with a hanger on the end of a lion-shaped gunblade that is very detailed. Steady!
5. Link Master Sword and Hylian Shield, Legend of Zelda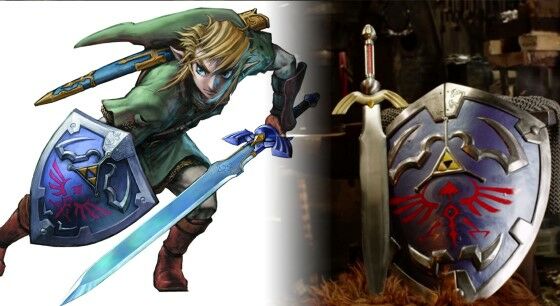 Legend of Zelda is a very legendary adventure game title. Not only are the characters iconic, but also the weapons used by Link.
Man At Arms returns to action by making Link's armament package used against enemies. Link Master Sword Weapons that can only be seen from the game have now become real.
Not only that, this weapon was accompanied by a very capable Hylian Shield with excellent details.
6. Blades of Chaos, God of War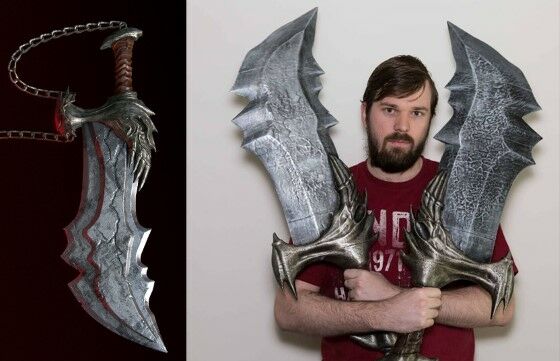 If you see a Kratos god from God of War, surely you are no stranger to the weapon called the Blades of Chaos.
This sword continues to be used by Kratos to fight enemies.
You can see the actual shape that has the size as the original. This sword is made with an iron chain that is connected and can be swung like in the game. So rude!
7. Greatsword of Artorias, Dark Souls III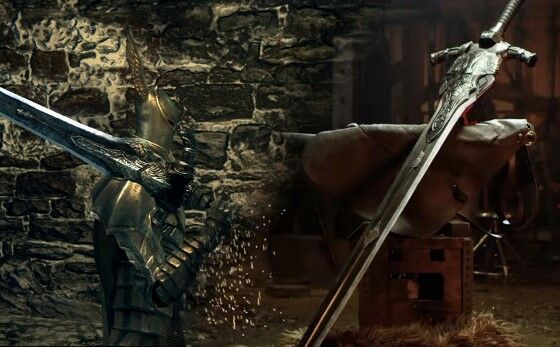 Last is the supernatural sword used by the hero in the game Dark Souls III. The sword named Great Sword of Artorias has become one of the best weapons in the game.
Great Sword of Artorias was also made a real version by Man At Arms. This sword is made in great detail along with its ornaments.