Trying to innovate, offering a function that does amplify the function or comfort of its users, while offering all the other standard functions that are indeed cool and needed, it is interesting to see what the gaming peripheral providers are trying to offer in each iteration of the products they offer. Even though all of them do not function properly and end up as mere gimmicks, not a few are able to carry interesting technology to talk about.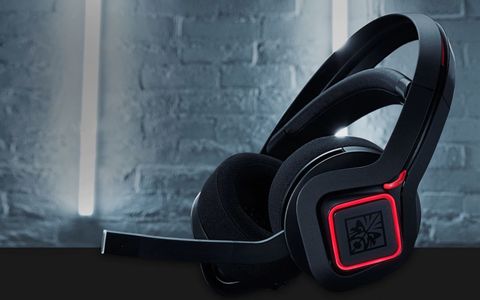 One of the interesting and just arrived at our test table? Omen Mindrame HP. That the "craziest" feature he offered turned out to be the end of what was promoted so far.
Design and Features
Sexy, cool, and elegant, these are probably the first two impressions that you encounter when talking about Omen Mindframe, especially for the white variant that is the foundation of our review article this time. Implanting a strong impression as a headset aimed at gaming, this cool design also, fortunately, promises comfort. Presenting a flexible material, it will immediately adjust to your head size once used, which is cool and even able to facilitate our heads which are of Indonesian standards - already large. We are of course talking about physical counts and not about metaphorical expressions.
Together with the white color that is ready to steal the attention of anyone who sees it, the HP also injects a little cosmetic element on the left and right of the headset which is decorated with square LED strips on each side. By using the software that we will discuss later, you can adjust the workings of LEDs that carry out their duties properly - reinforcing the gaming concept that he is stretching but does not end up tacky at all. You can make it react according to the sound that appears or just rotate a variety of RGB colors.
So with a combination like this, especially with the foam material that surrounds your ears, HP clearly continues to focus on offering comfort behind the quality of its design which is in plain sight, it deserves to be thumbs up. There is a futuristic impression that flows strongly from the choice of colors and shapes, which are also supported by the flat mic form available there. With a little LED at the end to provide information whether he is active or not, then this Mindframe Omen has a presentation that deserves thumbs up. A headset that will not be embarrassed for you to carry, wear, make a mainstay during your gaming session, private or public.
But what makes this headset special and is the focus of our discussion at the beginning of this review article? Of course, because it carries a feature that sounds like gimmick crap and ends up being a feature that you really can count on. Omen calls this technology "Frostcap Technology" where the ear cup adjacent to your earlobe has its own cooling technology. The theory is to make sure this feature ends up making your ears keep cold which will minimize sweating. In the end, it allows you to use and enjoy the sound quality of Omen Mindframe for a long time.
FrostCap Technology itself uses thermoelectric technology, which works by focusing on transferring heat from one location to another. On Omen Mindframe, it cools the part of the driver where the sound will come out and channels the heat generated out of the headset to the side where the LED strip that we talked about earlier is located. This cooling function is not intended directly to touch your ears and touch it, which incidentally can leave an uncomfortable feeling. The goal is to cool the air trapped around the ears, and therefore, cool your ears indirectly.
The good news? As crazy as this feature sounds, it's not just a gimmick. This new FrostCap feature will be active and feels as soon as the headset has received a sound supply, either from a PC or Playstation 4 after a few minutes. Using a thermal-FLIR camera whose results we include below, you can see a significant temperature difference. When this FrostCap feature is inactive, you can see that the temperature surrounding the earcup is equivalent to other parts of the Mindframe Omen. But when this feature is active, it is really cold, with temperatures that are not difficult to touch numbers up to 19 degrees Celsius - at least 8 degrees lower than ambient temperatures. But the consequences, as we talked about before, are that the heat is higher on the outside, now even reaching 32 degrees.
This technology works just like what HP Omen promotes on the main page of Mindframe products. That this Thermoelectric technology works as it should, produces a strong cold sensation on both sides of the headset but not so extreme that it makes your ears uncomfortable. He made sure that the long gaming session with this one headset would not end with hot, sweaty ears. But considering the needs resources to be active, it is rational for Omen Mindframe to only provide a USB connector here. The decision that makes it certainly can not be used on most mobile devices, especially your mainstay smartphone. But for consoles, at least on the Playstation 4, it functions perfectly along with the Frostcap feature that it is stretching out.
One other part that is quite surprising to us from it is the process of locking the voice that must be recognized, also better than most gaming headsets. Apart from the foam material that he stretches, the sound that comes out loud from the headset will not necessarily leak out, even though the maximum volume. For the loud sound that in other gaming headsets ends up being like a small speaker, Omen Mindframe is still able to lock the same sound so well. Therefore, those of you who like to hear music with a loud boom at maximum volume can use it in public spaces, without fear of being rebuked, for example.
Together with this convenient design and non-gimmick feature that works well, Omen Mindframe also provides software support - the Omen Command Center that allows you to manage a number of things in it. In addition to the cosmetic side of a variety of LED effects that you can "play" with, including the opportunity to make it synchronized with the sound effects that come out. You can also enable or disable the FrostCap feature via this software depending on your comfort preferences. Rest? Of course the variety of sound effects you want to produce.
Omen Mindframe, How Comfortable?
By using available software, Omen Mindframe opens up a large space for you to set, modify, and determine the sound quality you want. There is an opportunity to take advantage of the 7.1 Virtual Surround feature that he uses for those of you who want to enjoy better details, especially when enjoying your favorite action movies. While for you music lovers, there is an opportunity to set the equalizer to determine what sound is produced by Mindframe or just follow a predetermined preset. For gamers? Take it easy, you will also get the opportunity to set the presets in the Omen Command Center, these are divided based on the genre you taste.
Film
There is no more perfect moment to taste how capable Omen Mindframe is besides making it a source of sound to enjoy the war of the giant Kaiju in Godzilla: King of the Monsters. In films like this, Virtual Surround 7.1 which he offers is charming. Although the quality does not necessarily make it comparable with hundreds of millions of rupiah worth of audio system in a favorite cinema, the simulation that he offers will be enough to make those of you who want similar sounds satisfied. Godzilla's angry screams, the sound effects of the Ghidorah attack, until just the softly flowing Mothra theme song will be ready to make your backing goosebumps. Omen Mindframe does its job as a multimedia headset well.
Music
On the music side, gaming headsets like Omen Mindframe are certainly not designed to facilitate the ears of gamers who have been spoiled by more expensive and specific audio devices. But if he can still be used to enjoy your favorite music? Of course. Details are quite good in high and low sounds, with a satisfying bass boom at a certain volume, we had time to try it with music with more dominant techno elements, such as Perfume - Future Pop and Armin van Buuren - Blah Blah Blah really made Omen Mindframe it shines. The soundstage is also one of its main attractions if you enjoy slower music content such as classical or acoustic. But again, for this one element, we far more recommend you to use a stereo music scheme rather than "fall" on the 7.1 Virtual Surround feature that he stretches.
The game
By using the pre-set variety that Omen has prepared for each genre that you like, there is indeed an opportunity to amplify sound elements that in some genres such as competitive FPS, for example, do play an important role. But with soundstage quality that is already good, even when you have a pre-set of music though, Omen Mindframe does its job as a gaming headset that it should. Unfortunately, we only tried it with DOTA 2, which even though the MOBA pre-set was chosen, does not necessarily give you a significant advantage from the competitive side. But the details provided, once again, are indeed effective in providing information-information about what is happening in the battle arena, making this gaming headset reliable.
Conclusion
Comes with features that sound like crap, but manages to prove itself as a feature that performs its functions perfectly, Omen Mindframe is a manifestation of two mesmerizing qualities as a gaming headset product - quality and innovation. As a gaming headset that can also be counted on for more multimedia content outside of video gaming, it does its job well. Detailed sound with good soundstage, software support, and comfortable head supports it offers. While in terms of innovation, the FrostCap feature that he touted worked properly and should ensure a longer, hot, free gaming session for your ears. A passive feature that even activates itself when you use it on Playstation 4 and not just a PC.
But the most charming of all of them is the price. Although it hasn't been officially released in Indonesia yet, based on the insider information we got, Omen Mindframe will most likely be released at a price of 2 million Rupiah - a fairly rational price range for a feature-packed gaming headset like this. Sound interesting to you?